ClearBra Installation Services
Automotive Paint Protection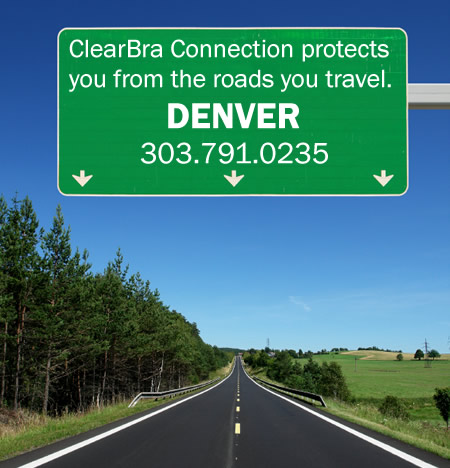 Say goodbye to unsightly black vinyl car bras and bug shields! ClearBra is a nearly invisible film that provides a second skin of protection over your car's paint. The result is a clear barrier of protection between your vehicle and the roads you travel.
ClearBra Connection is the original innovator in car protection. Clear Bra will protect your car from debris damage that can occur due to weather and road conditions. It will also protect against damage that can occur from other cars in parking lots and garages... Your new car is vulnerable to damage the minute you drive off the lot. In the past poorly designed options such as black vinyl car-bras and bug-shields often caused damage to your vehicle due to crude manufacturing and inferior application. Regardless if the application of these products was perfect, the result was was an inferior look for your vehicle. Technological advances in film and application have resulted in Clear Bra, a product that offers you the opportunity for an uncompromised look with superior protection. Our market-leading five zone package sets the bar in Clear Bra applications. We have designed this package based on the most reconditioned areas of a car at the time of sale or trade-in. So while other companies may try to gift wrap your car to line their pockets, ClearBra Connection only looks to add a fair amount of value to the most vulnerable areas of your vehicle.
Contact us today. Don't be a victim of poor Clear Car Bra practices.
Be sure to read our customer testimonial letters to better appreciate these comments.