More Clear Bra testimonials here...
"I own three other BMWs that have clear bras but do not look half as professionally done as the one you put on for me. I researched four other companies (besides yours) and decided to go with you for the following reasons:" ...
Read More
- Linda Kehr, 2009
"After having the same 3m film installed by both ClearBra Connection and a local competitor, and seeing the tremendous difference in quality of the two jobs, I would never allow anyone but ClearBra Connection to install film on a car I own again"...
Read More
- Sally Gosch, 2002
Clear Bra - Automotive Paint Protection
Your trusted Clear Car Bra installation experts!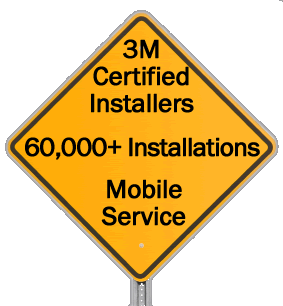 The "Original Clear Bra Company" is the only answer to maintaining that "new-car" appearance we all cherish the first day you drive your car away from the dealership. For many years to come it will maintain that showroom luster with a ClearBra Connection 3M Clear Bra package.
Our installers have over 40 years combined experience in this field. We use the same film to protect your new car that auto manufacturers have been applying at their factories for over 30 years. More importantly we are the only Clear Bra applicators that approach your finished installation as our artwork. We view your vehicle as our canvas. We strive to leave you with a finished product that has an original equipment appearance.
Daily use of your vehicle reduces its value. Driving through road construction, poor weather conditions or behind large trucks chips away at your cars value slowly. Parking lots are another place where body and paint damage can impact the value of your vehicle on a daily basis. Over time there are certain parts of your vehicle that will show age faster due to exposure and normal driving habits. The result is a worn and tired look for your car. Keep your vehicle looking like new and maintain an improved resale value by allowing ClearBra Connection to apply our knowledge and care when installing your Clear Car Bra. Call us now for a same day clear bra mobile installation that comes to you!